Are you looking to turn your backyard into a beautiful outdoor oasis? A functional and stylish deck can be the perfect addition! Deck builders in Winnipeg has become increasingly popular, as homeowners are discovering the many benefits of having an outdoor deck construction. From hosting barbecues with friends and family to enjoying a peaceful morning coffee, decks offer endless possibilities for relaxation and entertainment. But where do you start when it comes to building your dream deck?
Deck builders in Winnipeg
---
Deck construction is a complex process that requires the expertise of experienced deck builders winnipeg and contractors. It can take anywhere from a few days to several weeks, depending on the size and complexity of the design.
The first step in building an outdoor deck construction is to determine the layout and design. This involves measuring the area where you plan have your deck construction, deciding on the shape and size, as well as choosing materials.
Once you have finalized your design plans, it's time to prepare the site for deck construction. The ground needs to be leveled and cleared of any debris or vegetation before excavation begins.
Next comes framing, which is one of the most important steps in constructing a solid and stable deck. This involves attaching pressure-treated lumber beams onto concrete footings using bolts or screws.
After framing comes decking installation. You get to choose between traditional wooden planks or low-maintenance composite decking material that mimics wood grain patterns but doesn't require sanding or staining yearly.
Finishing touches such as railing installation are added before final inspection by local authorities takes place. From start-to-finish every stage must meet safety standards set out by city council regulations so it's essential not rush through any step of this critical process!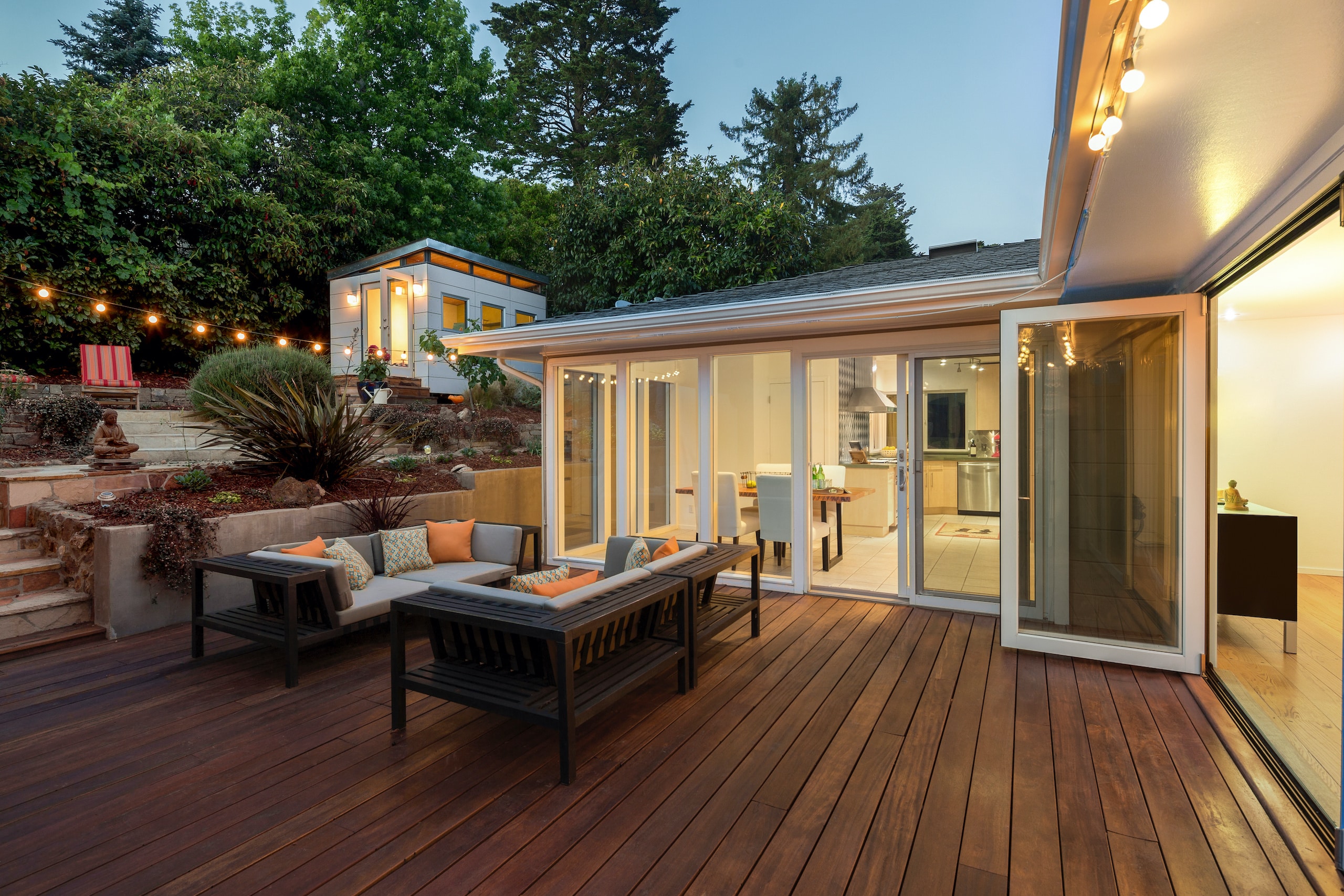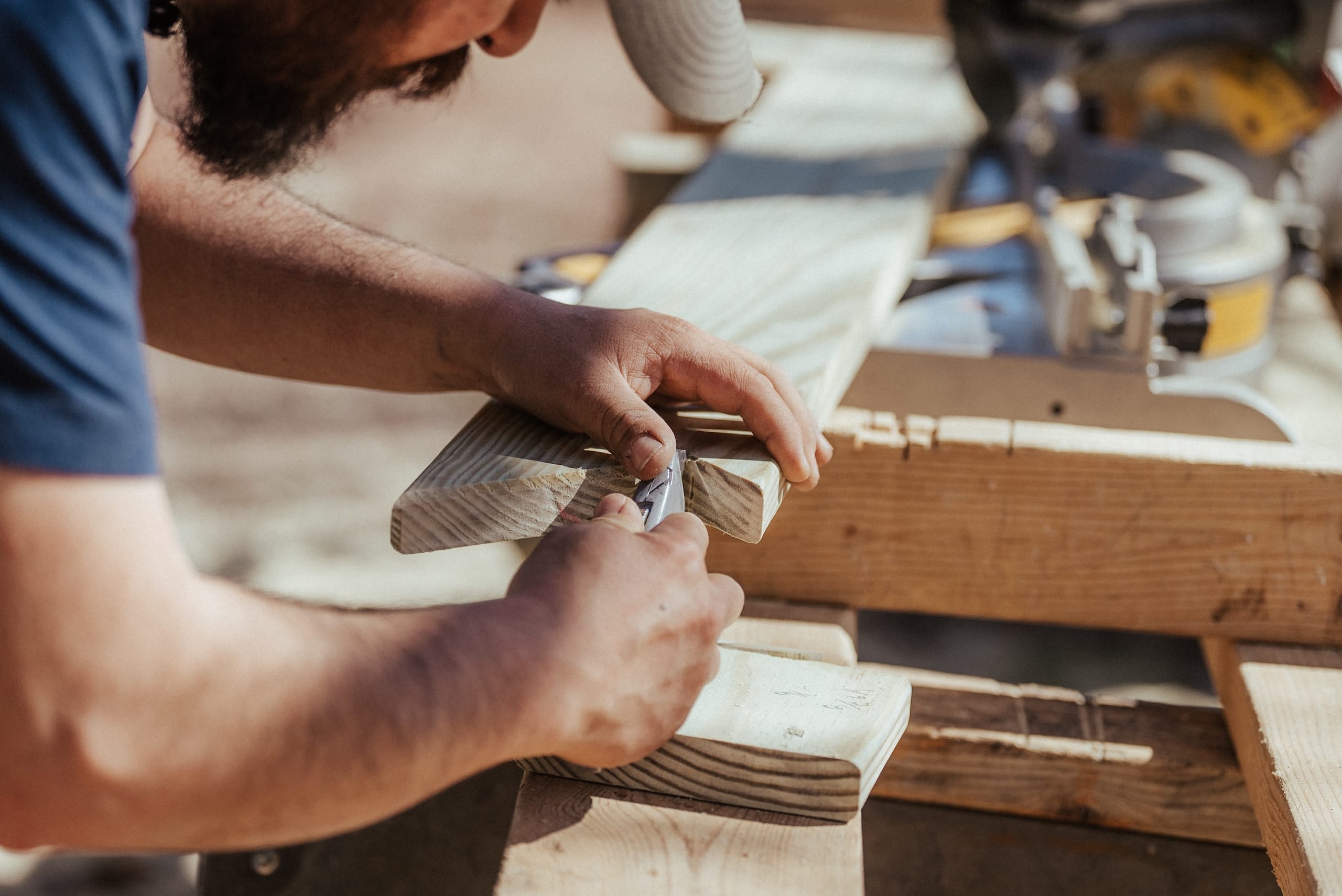 Our deck construction service.
Materials used in deck construction
When it comes to building decks, the materials used are crucial. They can make a big difference in the durability and appearance of your deck.
One popular material for decking is pressure-treated wood. This type of wood has been chemically treated to resist rotting and insects, making it an affordable option for many homeowners. It also takes well to stains and finishes, allowing you to customize its appearance.
However, if you want something more durable than pressure-treated wood, there are other options available. Composite decking is made from a combination of plastic and wood fibers, creating a low-maintenance option that resists fading, staining, scratching and mold growth.
Another great choice for deck building materials is natural hardwoods like cedar or redwood which provide an all-natural look with unique grain patterns that add character to any outdoor space. These types of woods require regular maintenance like staining but can be very long-lasting when cared for properly.
Aluminum decking may be the best option if you live in an area with harsh weather conditions such as heavy snowfall or extreme temperatures since it does not warp or crack under these environmental factors.
The benefits of an outdoor deck in winnipeg
In summary, building an outdoor deck is a great investment for any homeowner in Winnipeg. A well-constructed deck not only adds value to your property but also provides you with a comfortable space to relax and entertain guests.
From the various designs available to the different materials used, there are many options that can be customized to fit your specific style and needs. Working with professional deck builders Winnipeg ensures that you get the best quality of workmanship.
Furthermore, having an outdoor living area increases your home's livable space, which can come in handy when hosting parties or family gatherings. It also encourages more time spent outdoors while enjoying the fresh air and beautiful weather during summer months.
Adding an outdoor deck is a perfect way to enhance your lifestyle by creating more usable space on your property while increasing its overall aesthetic appeal. So why wait? Contact reputable deck builders winnipeg today and start enjoying all these benefits of having an outdoor living area!
Functionality of an outdoor deck
An outdoor deck is a fantastic addition to any home in Winnipeg. It offers more than just aesthetic value, but also functionality that can enhance your daily life. One of the primary functions of an outdoor deck is its versatility. You can use it as an extension of your living room or dining room during warm weather months.
Another benefit of an outdoor deck is that it creates additional space for entertaining guests and hosting events, such as barbecues or garden parties. With the right design and layout, you can make your outdoor space feel like a private oasis where you can relax with family and friends.
Moreover, installing custom features like built-in seating areas, lighting fixtures, and even fire pits can transform your backyard into a cozy gathering spot for everyone to enjoy all year round.
Additionally, having an outdoor deck adds value to your property because potential buyers consider them attractive amenities when searching for homes on the market. By investing in a high-quality construction project with experienced deck builders in Winnipeg who understand what works best for local conditions will guarantee long-lasting durability while adding significant equity to the overall value of your home.
There are many functional benefits to building an outdoor deck in Winnipeg. From providing extra entertainment space to increasing property values through customized enhancements like built-in seating areas or lighting fixtures – these versatile structures offer endless possibilities for homeowners looking to improve their quality of life at home!
Different outdoor deck designs
When it comes to outdoor deck designs, there are many options to choose from depending on your taste and the size of your space. One popular design is the classic rectangular shape, which works well for larger decks that can accommodate multiple seating areas.
For smaller spaces, a curved or circular deck design can add visual interest while maximizing usable space. This type of design is also great for creating a cozy atmosphere and encouraging social interaction.
If you love entertaining guests outdoors, a multi-level deck with separate areas for dining and lounging could be perfect for you. This allows you to create distinct zones that serve different purposes, giving your guests plenty of room to spread out and enjoy themselves.
Another trend in outdoor deck design is incorporating natural materials like stone or wood into the structure. These elements can add warmth and texture to your deck while blending seamlessly with the surrounding landscape.
Ultimately, choosing the right outdoor deck design depends on your personal style as well as practical considerations like budget and available space. Whatever design you choose, make sure it reflects both your needs and personality so that you'll feel comfortable spending time there all season long!
Accessibility may not be at the forefront of everyone's mind during the planning stages of their deck addition project, but it should never be overlooked. Incorporating accessible features into your deck can increase its value and appeal for future buyers or ensure you're able to age in place comfortably.
Choosing the right deck builders winnipeg
Choosing the right deck builders Winnipeg is crucial to ensuring a successful and stress-free project. With so many options out there, it can be overwhelming to make a decision. One way to start your search is by asking for recommendations from friends and family who have had decks built before.
Once you've narrowed down your list of potential deck builders winnipeg, it's important to do some research on their experience and qualifications. Look for reviews online and check if they are licensed, insured, and bonded. This will give you peace of mind knowing that they have the necessary skills and expertise to complete the job safely.
Additionally, schedule consultations with several deck builders to discuss your vision for the deck and get an idea of their communication style. Good deck builders should be able to listen attentively, offer suggestions based on your needs, budget, materials selection while keeping up with local codes as well as provide a clear estimate of cost.
Remember that choosing reputable deck builders may save you money in the long run because they'll ensure quality craftsmanship that stands the test of time!