Are you looking to expand your living space and bring the outdoors inside? A sunroom addition might be just what you need! With their abundance of natural light, panoramic views, and versatile functionality, sunrooms have become a popular home renovation choice for Winnipeg homeowners.
Winnipeg sunroom builders
---
Choosing the right builder for your sunroom addition is a crucial step in ensuring that you get the most out of your investment. In Winnipeg, there are many options to consider when it comes to selecting a reputable and experienced sunroom contractor.
One important factor to keep in mind is whether or not your chosen builder has experience working with local building codes and regulations. This will ensure that your sunroom is built safely and up to code, giving you peace of mind knowing that everything has been done properly.
Another thing to look for when choosing a Winnipeg sunroom builder is their level of expertise in designing and constructing different types of sunrooms. Whether you're looking for a traditional glass enclosure or something more modern like an all-season room, make sure they have the skills necessary to bring your vision to life.
It's also essential to choose a builder who values transparency and communication throughout the construction process. A good contractor should be open about costs, timelines, potential challenges, and offer regular updates so that you always know what's happening with your project.
By taking these factors into account when selecting a Winnipeg sunroom builder, you can feel confident that you'll end up with an addition that meets all of your needs while enhancing the beauty and value of your home.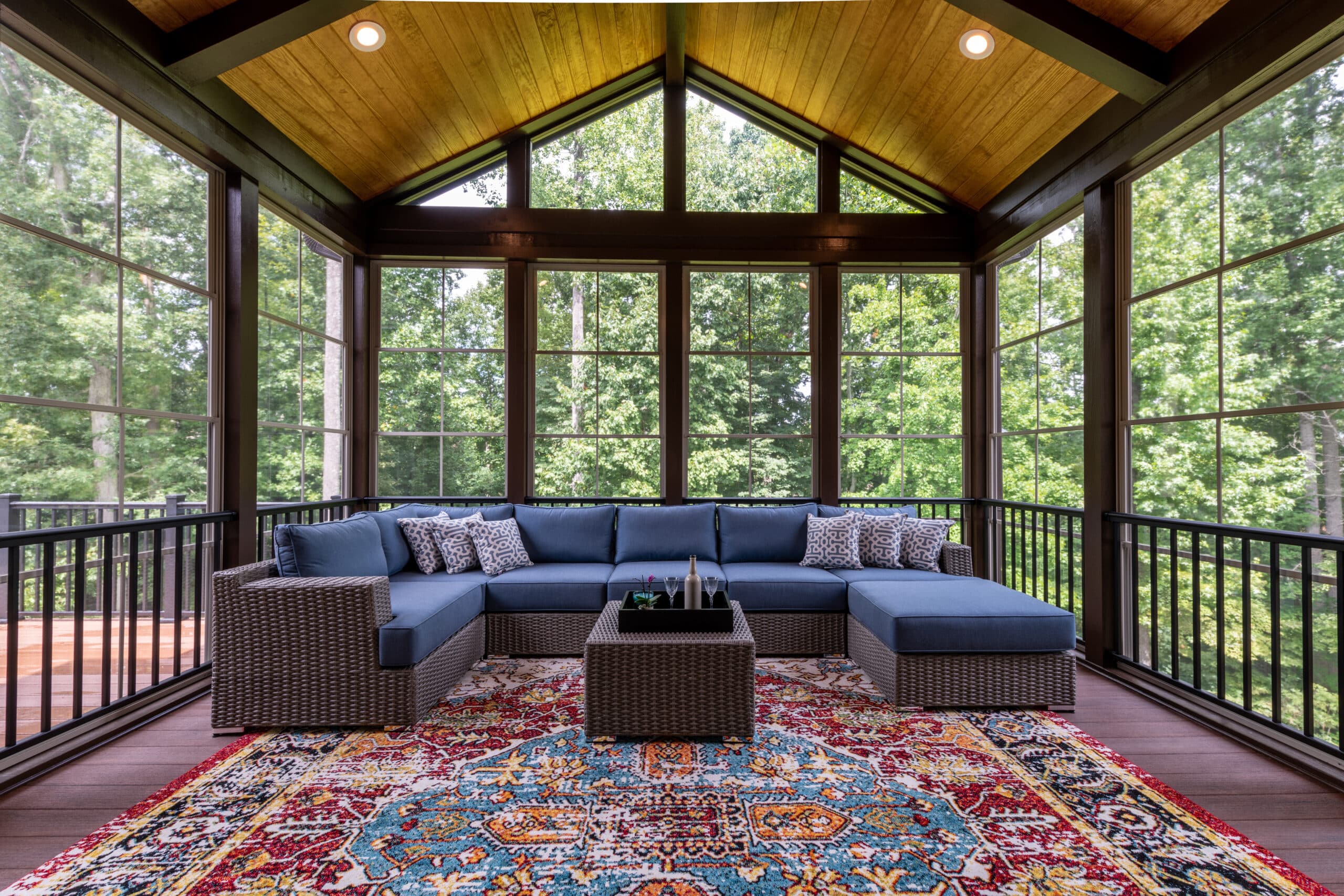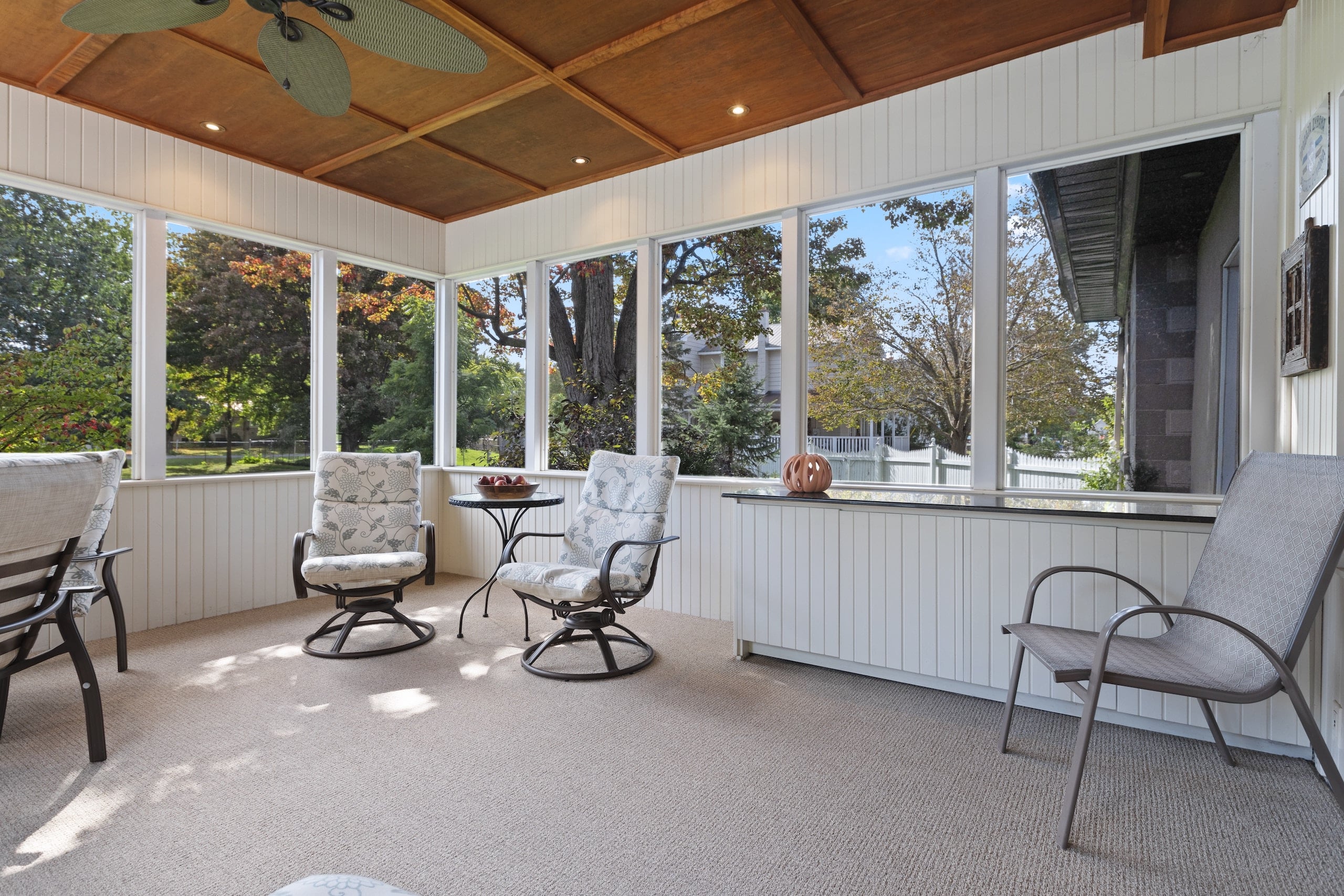 Our sunroom addition construction service.
Building a sunroom addition
The construction process of a sunroom addition typically begins with an initial consultation with your chosen contractor. During this meeting, you will discuss the design and layout of the sunroom as well as any necessary permits that may be required.
Once plans have been finalized, the building process can commence. This usually involves excavation work to create a foundation for the structure. From there, framing is installed to support the walls and roof of the sunroom.
Next comes electrical and plumbing work if needed, followed by insulation installation to ensure comfortable temperatures year-round. Windows are then added to let in natural light while keeping out drafts.
Finishing touches such as flooring and paint are applied before final inspection takes place. With careful planning and execution from experienced contractors, building a sunroom addition can be a smooth process resulting in an extra living space perfect for relaxation or entertaining guests.
The cost of a sunroom addition
The cost of a sunroom addition varies depending on several factors. Firstly, the size and complexity of the design will play a significant role in determining the cost. Sunrooms can range from simple designs to more elaborate ones with custom features such as skylights or built-in seating areas.
Another important factor that affects the cost is materials used for construction. Higher-end options like hardwood flooring and insulated glass windows may be pricier than standard vinyl flooring and single-pane windows.
Labor costs are another consideration when it comes to budgeting for a sunroom addition. Most contractors charge by the hour, so it's essential to get an estimate upfront before beginning any work.
Permits and fees associated with building codes must also be factored into overall costs. These vary depending on location but are necessary to ensure safety regulations are being met throughout the construction process.
Functionality of a sunroom addition
A sunroom addition is not just a beautiful extension to your home, but it can also serve many practical purposes. One of the significant functionalities of a sunroom addition is that it provides extra living space without requiring additional heating or cooling systems.
This additional area can be used for various purposes like an entertainment room, exercise room, playroom for kids, reading nook or even as a greenhouse. You can customize your sunroom based on your requirements and preferences to make it work best for you.
Another functionality of a sunroom addition is that it allows natural light to enter into your home while still providing shelter from extreme weather conditions. This means you get to enjoy the beauty of nature from the comfort of indoors without worrying about harsh elements like rain, wind or snow.
Sunrooms are also energy-efficient as they allow natural light and heat into your home which reduces the need for artificial lighting and heating systems during daytime hours. This will help lower electricity bills in the long run.
A sunroom adds value to your property by increasing its square footage and overall appeal. It's an attractive feature that makes homes more desirable to potential buyers if you decide to sell down the line.
Different sunroom designs
Sunrooms come in various designs and styles. The design you choose will depend on your personal preferences, budget, and the architecture of your home. Some popular sunroom designs include conservatory style, gable roof style, curved eave style, straight eave style, custom design, and more.
The conservatory-style sunroom is a classic option that features an all-glass structure with a sloping glass roof. This type of sunroom provides maximum natural light penetration and offers an open view of the outdoors.
Gable roof-style sunrooms are characterized by their high-pitched roofs that add visual dimension to any home's exterior. These types of rooms can accommodate floor-to-ceiling windows or doors for added ventilation or access to outdoor living areas.
Curved eave-style Sunrooms have a unique curvature shape which creates its own personal charm to it. With its rounded edges it adds softness to the overall feel compared to other more rigid structures
Straight eve-style is a modern take on traditional greenhouse designs featuring clean lines creating visually stunning spaces for year-round enjoyment.
Custom designed sunrooms offer endless possibilities as they allow homeowners complete control over every aspect such as materials used for construction or integrating specific amenities like swimming pools into the space itself – perfect if you want something truly bespoke!
Ultimately choosing from different types of sunroom designs comes down to taste and preference while keeping in mind functionality depending on how you plan on using your new room!
Accessibility in sunroom additions
Accessibility may not be at the forefront of everyone's mind during the planning stages of their sunroom addition project, but it should never be overlooked. Incorporating accessible features into your addition can increase its value and appeal for future buyers or ensure you're able to age in place comfortably.
The benefits of a sunroom addition
Adding a sunroom to your home can be a great investment for many reasons. Not only does it provide an extra living space that allows for more natural light and outdoor views, but it also increases the value of your property.
One major benefit is that a sunroom addition can help you save on energy costs by providing additional insulation and allowing you to rely less on artificial lighting during daylight hours. It's also the perfect place to relax with family or friends while enjoying nature without being bothered by bugs or harsh weather conditions.
Another advantage is that a sunroom addition provides a versatile space that can be used in many ways. Whether as an entertainment area, home office, exercise room, or simply just another spot to unwind, this type of room offers endless possibilities depending on your lifestyle needs.
Adding a sunroom will undoubtedly enhance the overall aesthetic appeal of your home. With numerous design options available from classic Victorian styles to modern minimalist designs, there's no shortage of inspiration when it comes to choosing the perfect look for your new addition.
In conclusion, if you're considering investing in some home improvements this year and want something unique yet functional while increasing your property value at the same time then perhaps it's time to consider building yourself one beautiful Winnipeg Sunroom Addition!